All facial treatments start with examining, cleansing, scrubbing & massaging your face thoroughly to activate the lymphatic system and blood flow. The packages include a Diamond Microdermabrasion treatment to exfoliate & remove the outer layer of the skin, an ultrasonic face scrubber to remove blackheads, a soothing mask that best fits your skin needs or one of your personal choice, & topped off with a relaxing and refreshing face massage. To achieve the best results this process works in a series, it is recommended to do one every month.
Classic Facial
45 - 60 mins
The classic facial is great for ALL skin types!
cleansing skin

microdermabrasion treatment

clean out pores & blackheads

refresh the skin

soothing mask that best fits your skin needs or one of your personal choice
Acne Facial
60 - 90 mins
This treatment concentrates on fighting acne and helping you find the best solution for your type of acne.
glycolic acid exfoliating cleanser

microdermabrasion treatment

examine skin to determine if extractions are need

clean out pores & blackheads

refresh the skin

soothing detox mask or a mask that best fits your skin condition & eye masks.

face massage with a balancing hydration serum hand made with the perfect oils!

add extra lavish to your facial with an extra 15 min of high frequency electro therapy
Hydrating Facial
45 - 60 mins
This facial helps dry flaky and/or surface dry skin. Stimulating blood flow to help bringing back your natural hydration.
cleansing and massaging

microdermabrasion treatment

clean out pores & blackheads

refreshing hydrating mask & soothing eye masks

hydrating serum with face massage.
Sensitive Skin Facial
45-60 min
This treatment doesn't include the microdermabrasion for sensitive skin. But you will still get a wonderful facial to help relieve any irritations.
cleansing and massaging

ultrasonic face scrubber ( helps clear out pores & blackheads with out any exfoliation)

soothing rose petal coconut milk face mask

refreshing toner and serum with face massage
High Frequency Electro Therapy
15 min
This treatment can be a stand alone treatment before a big event to avoid any future breakouts or it can be added to any facial! Especially to help treat and prevent stubborn acne, shrink enlarged pores, reduce the appearance of fine lines and wrinkles, reduce puffy eyes, fade dark eye circles, and even to rejuvenate the condition of the scalp! Add an extra 15 min to treat your face or give your scalp a little loving too during your session.
Microneedling Face Treatment
30 min
Microneedling increases the production of collagen, collagen is an essential protein that helps keep the skin looking youthful, with a firm, smooth, and stretchy texture. It helps fight deep stubborn acne, wrinkles, and other healing factors by causing trauma to the skin.
Microneedling actually uses your body's own growth factors to smooth the skin. Because your body is producing its own collagen and elastin, no harsh chemicals are present, resulting in fewer side-effects. Many clients prefer microneedling because of its minimal downtime. Although some redness may occur immediately after the procedure, any irritation should subside by the following day. The procedure is most commonly used on the face, neck and decolatage with appealing results.
Microneedling can treat: fine lines and wrinkles, age spots, stretch marks, hyperpigmentation, acne scarring, rough skin tone and texture, & alopecia.
It is important to realize that microneedling is not a quick fix, as it involves the growth of new skin. It can take several months for a person to see the full results of the procedure.
exfoliating & Disinfecting your skin

anesthetic cream will be applied to keep you comfortable (20 min to feel numbing effect)

microneedling full face (first session .05mm/second session for acne skin 1.0mm)

refreshing face oil

sheet mask to help sooth and tighten skin




***you will keep your needle rollers for home personal use and bring them to your follow up appointments***
Eyes & Lips
Add a little extra to your facial & treat the areas we always forget about!
Eye Masks- help bring back hydration, reduce dark circles, puffiness, and fine wrinkles.

Lip Scrub & Mask - sweet sugar scrub helps remove dry flaky skin and moisturizes. Then I top it off with a mask that hydrates and plumps your lips.
Mineral exfoliating peel
Highly Recommended, it is my favorite!
This gentle exfoliating peel can be added to any treatment and works for all skin types.
It is a facial prep exfoliant with natural brightening agents.
Proper exfoliation is half the battle when it comes to skincare, so this star spray-on peel makes this crucial step a breeze, by gently eliminating impurities and smoothing your skin's texture with just a few quick spritz. While its natural brightening agents also give you an instant youthful glow.
Mask Options
Included in your facial. You can pick or let me find one that best fits your skin type.
OUR POPULAR FACE MASKS
PROBIOTIC MILK BALANCING MASK

PUMPKIN PEEL MASK

AVOCADO HYDRATION MASK

TURMERIC BANANA TIGHTENING MASK

GLYCOLIC PEEL MASK

CHARCOAL DETOXING MASK

ANTIOXIDANT SEAWEED MASK

PINK COCONUT REFRESHING MASK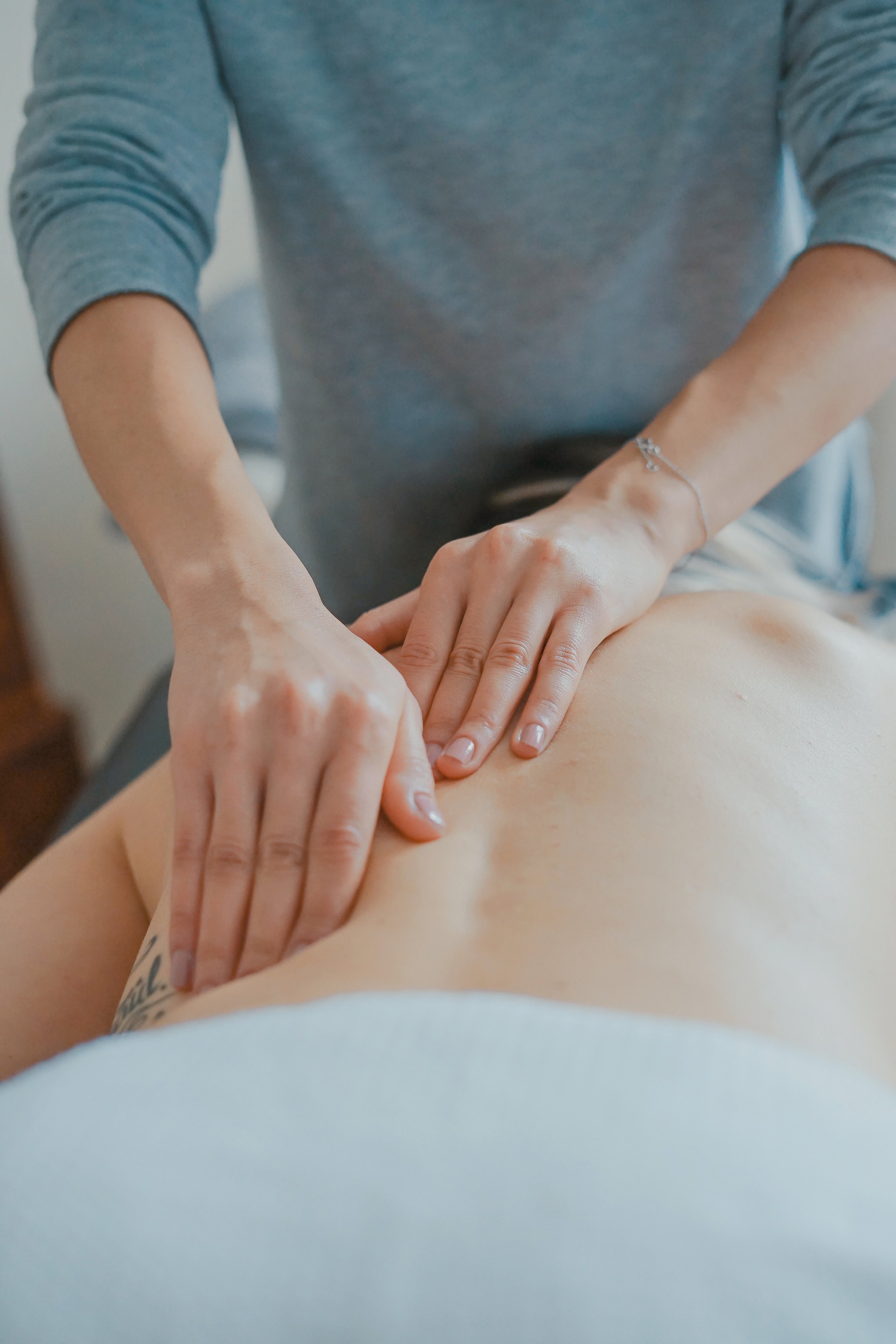 Aromatherapy Full Body Massage
45 mins

This massage provides you with an uplifting essential oil experience. Whether you are young or old, male or female everyone can benefit greatly!
Each essential oil in the Aromatherapy Massage was selected for its individual powerful aromatic properties that help indulge and detox your senses.
Physical touch is as important to the Aromatherapy Massage as the aroma itself because of its amazing healing benefits.
While the main purpose of the technique is to apply the oils and provide you with an essential oil experience, the massage is also about connecting with you on an emotional level. The connections developed through this massage form feelings of trust and help you relax.
Salt Scrub - Arms & Legs
30 mins
Do you want baby soft arms & legs?
I offer you luxurious Sea Salt scrubs or an amazing Hawaiian Black Lava with charcoal. Leaving your skin soft to the touch by removing all the dead skin cells and also helps to rid your skin of toxins.
cleansing skin

mineral body exfoliating peel

sea salt scrub

arm and leg massage
Back Microdermabrasion Treatment
45 - 60 mins
Just like a facial but on your back!
Weather you suffer from back-acne or not our backs also need a good cleansing and exfoliation. Diamond Microdermabrasion is so gentle and effective to help your back clear up, and regenerate a fresh soft skin.
cleansing skin

microdermabrasion treatment

clean out pores

refresh the skin

soothing mask that best fits your skin needs or one of your personal choice

gentle back massage
Underarm Microdermabrasion Treatment
30 min
Do you suffer from dark underarms or annoying ingrown hairs?
Diamond Microdermabrasion is also very effective at removing the dead skin cells that block the pores on your underarms. The treatment will help your underarms start healing and clearing up the skin tone. I will provide you with tips on how to keep treating your underarms at home to see better results.
cleansing & exfoliating underarms with kojic acid soap to help brighten your skin tone

microdermabrasion treatment

soothing/detoxing honey charcoal mask

refreshing underarm cream
Booty Microdermabrasion Treatment
45 - 60 min
A booty facial, say what?!
Yes it is real! Your booty has skin too and it needs exfoliating and a mask treatment as well, just like your face!
cleansing /scrubbing skin

microdermabrasion treatment

refresh the skin

soothing booty mask specifically created for the booty, targeting blemishes, cellulitis and stretch marks

refreshing caffeinated booty oil

gentle massage leaving your skin smooth and plump